Definition of an Irish B&B
What is an Irish B&B?
Bed and Breakfasts, B&Bs or BnBs are the backbone of the Irish Hospitality sector - you find B&B Accommodation in areas where there are no hotels and yet the B&B owners ensure there is no compromise on comfort. Unlike many other accommodation B&B means Bed AND Breakfast.
In Modern Ireland, B&Bs are generally family run or managed, have 4 or 5 rooms with private bathrooms, include breakfast, many provide FREE WIFI and have the individual touch of the owner. B&B REVIEWS the reviews website, rates the majority of Irish B&Bs as 4 or 5 star. You may see the term "Guesthouse" and these offer much the same service as B&Bs but are generally larger and may have additional facilities - again these are generally family run or managed.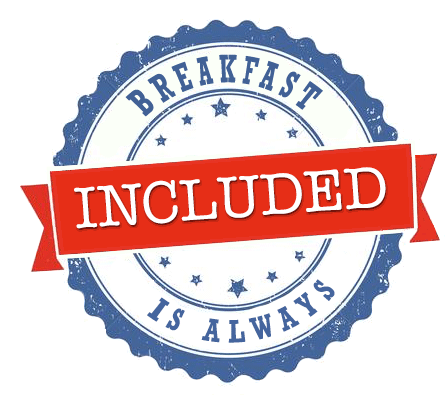 ---
What to Expect in an Irish B&B
Private bathroom / Shower / Toilet

Choice of Cooked or Buffet Breakfast

FREE: WiFi - Tea & Coffee - TV

Double Rooms - Family Rooms - Single Rooms

Last Minute Deals - Multiple Nights Discount

Convenient Free Parking

Local Knowledge of Attractions

Home Cooking - Irish Bread or Other Delights
Do NOT Expect (although you may be surprised)
24 Concierge or Laundry Service

Restaurants, Bars or Pools

Wide Acceptance of B&B Vouchers
The "B&B" or family home accommodation is not unique to Ireland but the number per capita is most likely the highest in the world. Why would that be? Well, Ireland is a large country with a small population and around 50% of people live in rural Ireland away from the main cities. Tourists visiting Ireland are attracted to the most beautiful & often remote areas and there are B&Bs in every corner of the country to satisfy the demand. The competition between B&Bs has lead to a high quality accommodation that is popular with visitors and Irish folk alike. There are also discounts to be had for the traveller in the know - check out The top of our display pages for last minute deals and special offers - you could end up saving a small fortune.
Rooms in B&Bs generally have similar facilities to those in hotels but can be furnished to the taste of the owner - these can mean a wide variety of styles that are unlike any hotel. Book a B&B in Ireland and taste the wonderful Irish Hospitality & humour.
Why stay in B&Bs: They are convenient, the quality is very high in Ireland and you'll find the them in many parts of the country even small villages. You are also helping the local economy and by using this website to book directly you are saving Irish B&B owners very large amounts of commission levied by International online travel agents.
Irish B&B Vouchers: Please avoid using prepaid B&B vouchers for two good reasons. 1. You will definitely pay more and 2. The B&B Owners will definitely get less. This website makes it easy to book directly, email or telephone the B&B to get the best value for you and the a fair price for owner.

---